Camping is more convenient when you have a travel trailer, but there are so many options, features, and brands that finding the right one is a challenge. How many people does it sleep, can your vehicle tow it, and what type of amenities does it include? There are just a few of the details to consider.
How do you choose the best travel trailer brand? The main considerations include the number of sleeping spaces and available amenities. Common amenities include hot water, toilets, sinks, and entertainment centers. A vehicle capable of towing the trailer is also required.
The right trailer can make life a lot easier during your next vacation. Imagine having your own sink, kitchenette, or bathroom when camping. To ensure that you choose wisely, here is everything that you need to know about buying a trailer, including the top 10 travel trailer brands.
Top Features to Look for When Choosing a Travel Trailer
To select the 10 most popular travel trailer brands, I looked at features that customers care most about. When comparing trailers, the following details tend to make the biggest difference:
Types of travel trailers
Size and weight
Sleeping accommodations
Available amenities
Ease of use
As you start looking at trailers, think about the features that matter the most to you. For example, you may need to find a trailer that sleeps a certain number of people or that comes equipped with a small kitchen.
Types of Travel Trailers
The type of trailer, along with its average size and weight, are the first considerations. While there are several types of travel trailers, they have one thing in common. These trailers are designed to be towed by another vehicle, setting them apart from the motorhomes. Your main choices include:
Expandable trailers
Pop-up trailers
Teardrop trailers
Fifth wheels
The expandable trailer and pop-up trailer feature sections that expand outward. These trailers feature hard sides and sections on the ends that slide-out or fold out to extend the length of the trailer.
Pop-up trailers extend upward or outward to create more space. Unlike an expandable trailer, the typical pop-up trailer has canvas or vinyl material for the expanding sections instead of hard material. The result is a lighter trailer.
The teardrop trailers are the smallest. Instead of providing sleeping space, these trailers typically just provide basic amenities, such as a small kitchenette. With an SUV or crossover vehicle, this may be your only option
Fifth wheel trailers are the largest of the towable travel trailers. They offer the most living space, amenities, and sleeping quarters, but require a larger vehicle for towing. Your truck also needs a special fifth wheel hitch.
Size and Weight
You may want to find a trailer that you can tow with an existing vehicle. If you drive an SUV or large car, you may be able to tow a small teardrop trailer. With an expandable, pop-up, or fifth-wheel trailer, you typically need a truck.
Before purchasing a trailer, you need to check the towing capacity of your vehicle. The gross vehicle weight rating (GVWR) is listed in the owner's manual, letting you know how much you can safely tow.
Trailers are often listed with two separate weights — the dry weight and the gross vehicle weight. The gross weight is the estimated weight of the fully-loaded trailer. Always compare the gross vehicle weight to the GVWR for your vehicle.
If you have never attached a trailer to a hitch, take a moment to watch this short video on hitching a trailer:
The size and weight may also impact your travel plans. Some states and campgrounds have restrictions for the length, width, and weight of travel trailers.
For example, the following states do not allow trailers wider than eight feet on the highways:
Alabama
Arizona
Georgia
Illinois
Kentucky
Louisiana
Michigan
Missouri
New Hampshire
New Jersey
New Mexico
New York
Oklahoma
Tennessee
In some areas, you also need breakaway brakes for trailers over a certain weight limit. Some states also prohibit traveling through tunnels or under bridges with a travel trailer.
Sleeping Accommodations
Travel trailers may offer sleeping accommodations, depending on the size and floor plan. If you need to sleep more than eight people, a towable trailer is unlikely to meet your needs. The Class A, B, and C motorhomes and RVs are large enough for the extra sleeping quarters.
Travel trailers with sleeping areas typically provide enough space for two to eight travelers. For example, the average teardrop trailer sleeps two and has a small kitchenette. However, a large fifth-wheel is more likely to have at least one bedroom, a bathroom, a dining and kitchen area, and possibly a living area with seating.
If you need to sleep more than two people, but do not want to tow a large fifth wheel, the pop-up and expandable trailers are the best options. These trailers often provide sleeping accommodations for four to eight adults.
Available Amenities
The amenities are what most people are interested in. Besides sleeping quarters, the extra features are the main reason that you likely want to buy a trailer. Some of the most common travel trailer amenities include:
Bathroom
Small hot water heater
Kitchen area with appliances
Entertainment center
Washer and dryer
Pantry and storage
Desk and seating
Dishwasher
The most basic amenity that you find in almost every trailer is a small kitchenette with a sink and counter. Some of the fancier floor plans include full kitchens, with counter space, cabinets, a microwave, and even a dishwasher.
Bathrooms are rarely included in teardrop trailers but are more common in the larger trailers. In some cases, the bathroom simply consists of a toilet. However, there are trailers with full bathrooms featuring a toilet, sink, and shower.
The remaining amenities are less common, other than a general living area and some seating. If there are any specific features that you want, remember to look for them when comparing the top trailer brands.
Ease of Use
The last details to consider are related to the actual use of the trailer. This is where choosing a top brand has an advantage.
Besides finding a trailer with the right number of sleeping accommodations and the amenities that you want, you want a trailer that is easy to use. Expandable and pop-up trailers should have easy-to-operate mechanisms for opening and closing the expanding sections.
Unfortunately, it is hard to assess the ease of use and overall quality of the trailer without testing it out for yourself. To solve this issue, I've compiled the following list of the top 10 travel trailers.
1. Airstream
Airstream is one of the most recognized travel trailer brands. These luxurious trailers have a streamlined design and distinctive style that sets them apart from the competition. The interiors of these trailers also tend to feature high-quality amenities and furnishings.
The current lineup of Airstream travel trailers includes options ranging in length between 16 feet and 33 feet.
Airstream Sport is the most popular trailer from this company. It is available in two different floor plans and sleeps two to four adults, depending on which floor plan you choose. The main features include:
Stainless steel kitchen appliances
Retractable awning
Two-burner stove
Exterior shower
The Sport 16RB is the smaller of the two floorplans. It measures 16 feet long and sleeps two adults. The bed is positioned in the rear end of the trailer, with a small table and seating area on the opposite end. The tiny bathroom and kitchen area are right in the middle. The gross weight is 3500 pounds.
The Sport 22FB sleeps four adults and measures 22 feet long. The layout is a little different, with the bathroom at the end of the trailer. It is a more spacious design, with a larger bathroom featuring a shower and a sink. It has a gross weight of 4500 pounds.
With the Airstream Sport, you can also choose from a variety of interior design options. There are multiple colors, prints, and styles to consider.
Besides the Sport, Airstream has half a dozen other travel trailers, including compact little trailers with sleeping space for two and lengthy trailers that sleep eight.
2. Forest River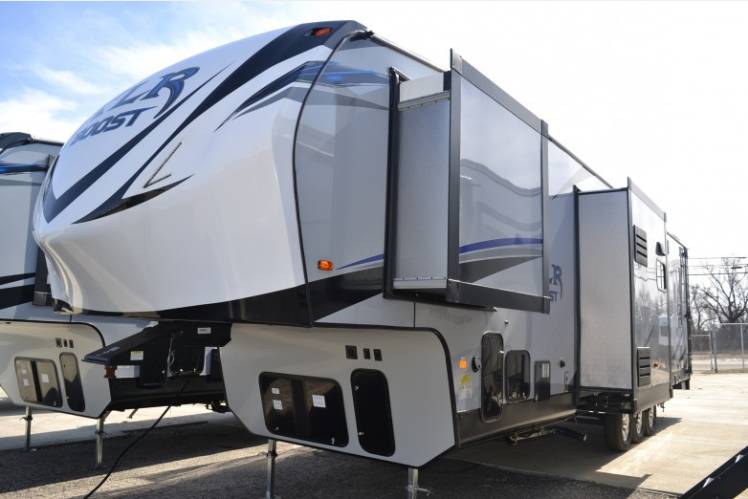 Forest River was established in 1996 and has become one of the top-selling trailer manufacturers. The company maintains several manufacturing plants in the midwest and produces a variety of trailers.
Forest River has a wide selection of pop-ups, fifth wheels, and standard travel trailers sold under a variety of different brands. These brands include Berkshire, Cardinal, Cedar Creek, and Alpha Wolf.
Alpha Wolf won the best of show award from RV news. It is a lightweight travel trailer with six different floor plans. The Alpha Wolf 23RD-L has the lowest GVWR at 7,600 pounds. Here are some of its main specs:
29 feet long
8 feet wide
20-foot awning
Queen-size bed
Pull-out sofa
Table with four chairs
Pantry
Full bathroom
Shower
With the 23RD-L, you get a spacious floor plan with plenty of room to walk around. It even has a separate bedroom with a queen-size bed and extra storage space.
The trailer is also equipped with entertainment. There is a flat-screen TV near the table in the main area and a second TV in the bedroom. Overall, the design of this expandable trailer provides comfortable accommodations for two adults, with space for up to four.
If you are traveling with kids, you should examine the 29QB-L floor plan. It includes two bedrooms. While it still has a queen-size bed, the second bedroom has bunk beds and more storage.
It also includes a walk-in pantry, a bathtub, and a larger dining area. Despite the larger design, it has a GVWR of just 7,920 pounds.
3. Grand Design
Grand Design is an offshoot of Keystone, which is another popular brand. All Grand Design trailers come with a three-year limited warranty. The company has a wide selection of trailers, including the popular Transcend Xplor Travel Trailer.
The Transcend Xplor is a compact, lightweight trailer with five different floor plans. The smallest of these plans measures just under 23 feet long and has a total weight of 4,700 pounds. Some of the main features of the 187MK floor plan include:
Queen-size bed
Microwave oven
Walk-in shower
Toilet
62-gallon water capacity
Comfortable furnishings
While this trailer is compact, Grand Design added a lot of amenities. The kitchen area features a three-burner range with oven, a microwave, and countertops. You get plenty of storage in the kitchen, bathroom, and sleeping areas. However, one of the best features is the ceiling height.
The tall ceilings help you feel at home, instead of feeling confined inside a tiny trailer. At 6.5-feet, the interior height is a bit taller compared to most other options.
The Transcend Xplor is not sleek or stylish. It simply offers a comfortable home on wheels. If the small size does not meet your needs, several of the larger floor plans can sleep up to four adults.
4. Dutchmen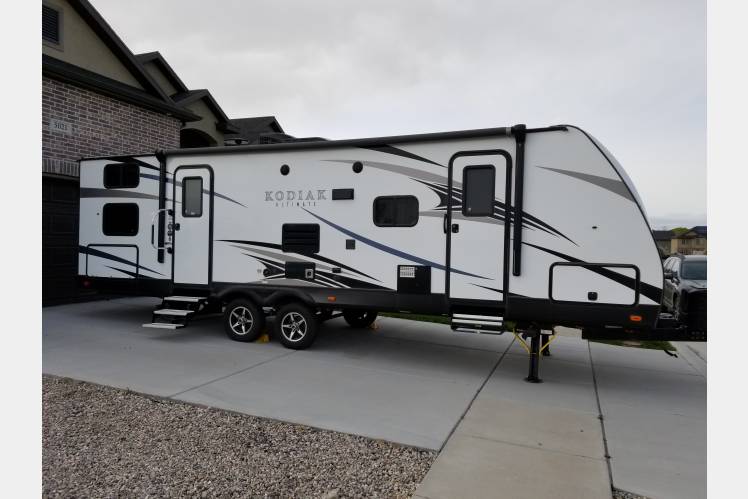 Dutchmen is really a travel trailer manufacturer and not an individual brand. In fact, the company produces at least eight different brands of RVs and trailers, some for other companies.
Out of the different brands that the company produces, the Aerolite trailers are the best-selling. These lightweight travel trailers provide lots of living space and the amenities that most people tend to want. With the lightest option, the 2133RB, you get the following:
Full bathroom with walk-in shower
Queen-size bed
Indoor and outdoor kitchens
An expandable section with dinette
Sleeps three to four adults
Weighs 5,557 pounds
This trailer is 25 feet long and includes everything needed for a couple to enjoy a luxurious camping trip. Besides the standard kitchenette, you get an outdoor kitchen space. You can set your cooking utensils and condiments on the pull-out table and use the sink to wash your hands while grilling by the campfire.
There are eight other Aerolite floor plans, including the newest option. The 3383BH is one of the largest Dutchmen travel trailers, measuring a little over 37 feet long and providing sleeping space for up to eight.
It includes a queen-size bed and two bunk beds. It even has a fireplace and a kitchen island. Just keep in mind that this is a heavier trailer, requiring a truck with a towing capacity of at least 11,000 pounds.
5. Keystone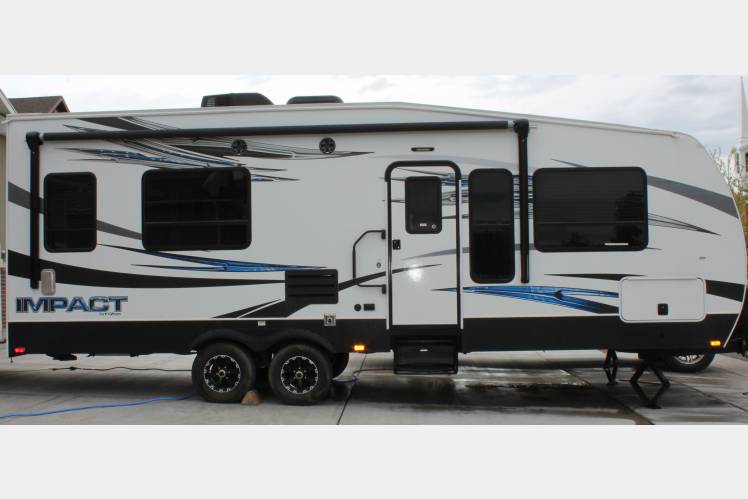 Keystone is the number one manufacturer of fifth wheels and motorhomes. However, they also produce several lines of travel trailers, including ultra-lightweight trailers that can be towed with an SUV or crossover vehicle.
The Bullet Colt is a compact version of the popular Bullet trailer. It is affordable, lightweight, and offers two different floor plans. Both options have a gross vehicle weight rating below 4,000 pounds and measure just 20 feet long. Other features include:
36-gallon water capacity
Bathroom with toilet
Two-burner stove
Hot water heater
6.6-foot interior height
The stylish little Bullet Colt also includes a small shower surrounded by curtain, a dry bath, and lots of cabinets. However, the variety of custom options help make this the best buy.
When purchasing a new Bullet Colt, you can choose from various extras, such as a microwave, an awning, a flat-screen TV, exterior shower, solar charging port, and different design options.
The only drawback is the limited space. As this is a tiny little travel trailer, there is not a lot of room in the living area. It is best suited for two adults who do not plan on spending most of their time inside the trailer.
If these two floor plans are too small, the standard Bullet trailer offers more space. It also requires a truck for towing.
6. Jayco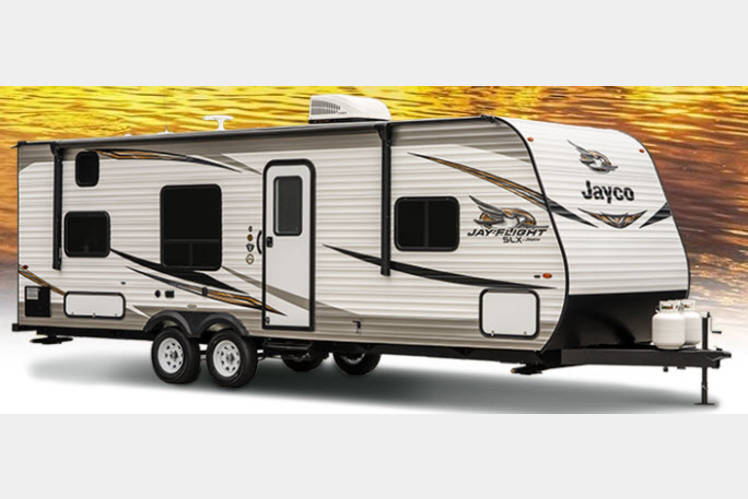 Jayco is an older trailer manufacturer, established in 1968. These trailers are unique for their Amish craftsmanship. The trailers feature real wood cabinetry and make the best use of the available space. This is most evident in the 2019 Hummingbird, which offers the following:
Five different floor plans
Two-burner stove
Teardrop design
Large pull-out sofa bed
Microwave and mini fridge
Full bathroom with walk-in shower
With the smallest of the floor plans, you can pull the trailer with a large SUV. It is a lightweight trailer with exceptional craftsmanship.
While the trailer does not have an entertainment center inside, it has an entertainment console on the back of the trailer. The rear door opens upward, providing an awning and exposing the entertainment area and extra storage space. This rear section also includes a sink, microwave, mini fridge, and sound system.
The small Hummingbird is a great choice for hanging out around a campsite while still enjoying some of the conveniences of a travel trailer. It also provides a wide selection of customization options and packages to suit your specific tastes.
For something a little bigger, consider the Jayco Flight Bungalow. It includes large double doors, a spacious living area, and a master bedroom with a queen-size bed. However, it is 8.5 feet wide, which is too big for traveling in some state highways.
7. Winnebago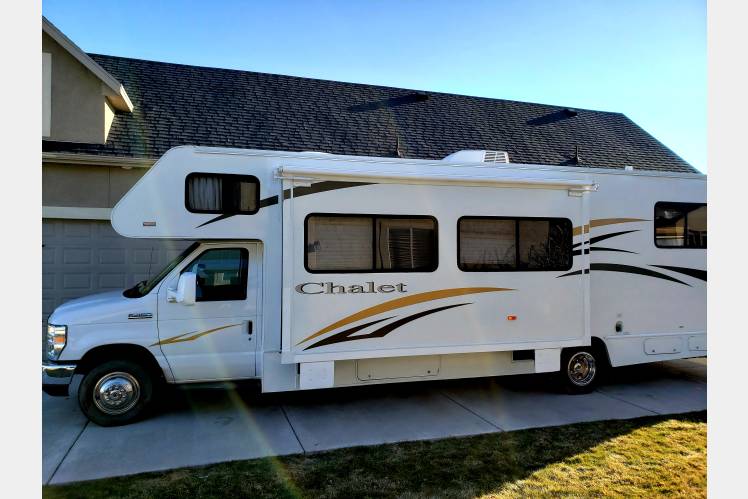 Winnebago was the leading producer of campers. In fact, the brand name was synonymous with camper trailers for much of the 1970s. While the company is mostly known for its campers and motorhomes, they manufacture several quality travel trailers.
The affordable, lightweight Micro Minnie is a top choice. It is just seven-feet wide and offers plenty of living space for such a small trailer. Other features include:
Three-burner stove
Bathroom with skylight
Shower
Dinette
Full-size bed and bunk bed
The smallest floor plan has a GVWR of just 3,700 pounds. You get all the amenities that you need to avoid staying at a hotel. The kitchen area features a double-door fridge, stainless-steel sink, and microwave. The teardrop design may also allow you to tow it with an SUV.
While this is a small trailer, it offers sleeping accommodations for up to four adults. The front section of the trailer contains a bedroom with a full-size bed while the rear of the trailer includes a bunk bed.
With the largest floor plan, you get a murphy bed, sofa, and bunk beds. The design gives you more living space, but also requires a truck, as the GVWR is 7,000 pounds.
8. Gulfstream
Gulfstream was established in 1983. This best-selling brand of travel trailers is widely known, even by those who do not own a trailer. While they have a massive selection of trailers, the Vintage Cruiser is their top-seller, thanks to these features:
11 different floor plans and designs
Laminated flooring and cabinetry
Compact kitchenette
Full bathroom with shower
83-inch interior height
The smallest floor plan is the 17RWD. It weighs just 2,567 pounds and includes the standard amenities that you get in most trailers. However, due to the size, it has a full-size bed instead of a queen-size bed. If you need a larger bed, the 19ERD has you covered.
Both options feature interiors that look like small cabins, due to the laminated wood and real wood details. The kitchenette includes wood cabinets with an overhead microwave, while the bed has a wood frame.
While these trailers are compact, they offer a lot of headroom. The interior height is 83 inches, which is just under 7 feet.
These are small, teardrop-shaped trailers. However, several of the floor plans feature expandable sections. With the 19CSK floor plan, you get an expandable area that adds a sofa bed to the living area.
9. Oliver Travel Trailers
Based in Tennessee, Oliver Travel Trailers is one of the smaller brands in this list. The company manufactures original travel trailers that have become popular in the RV world.
The Legacy Elite is a single-axle lightweight trailer that measures just 18.5 feet long. It also has a GVWR of 5,000 pounds and sleeps up to three. Other features include:
Two-burner stove
Microwave
Full bathroom with walk-in shower
City water direct hook up
Freshwater fill hook up
Side and rear dinettes
If you have the towing capacity, the Legacy Elite II offers just a little more room inside compared to the Legacy Elite. It measures 23.5 feet long and just 7 feet wide. While it only sleeps three, you get more living space and quality furnishings.
The Oliver Travel Trailers are less rustic compared to the wood detail found in some of the other options. The interiors feature sleek, stylish appliances and countertops.
10. Eclipse
Eclipse is a major producer of toy haulers and various travel trailers, with over 50 different models to choose from. While the company was founded in 2003, Eclipse has become one of the most popular brands.
The best-selling Eclipse vehicles are standard travel trailers. With the Milan Series, you get sleeping accommodations for up to seven people in a trailer measuring 29 feet long. It includes one slide-out to provide more living space and the following standard features:
Bedroom with queen-size bed
Bunk beds
Full bathroom with sink
Three-burner stove
54-gallon water capacity
The latest Eclipse travel trailers are affordable, well-built options. You also often find these trailers available at used trailer suppliers.
While the Milan Series is the best-selling brand of Eclipse trailers, the company also produces the Attitude trailer. It is a toy hauler but includes a floor plan designed for entertainment. It features recliners, a large TV, a bar, and a full bathroom.
Should You Buy New or Used Travel Trailers?
Travel trailers are not inexpensive, costing between $11,000 and $35,000. With a used trailer, you may not get a manufacturer's warranty. New trailers cost more but have no pre-existing damage or wear and tear.
Do You Need a Special License to Tow a Trailer?
In some states, a commercial driver license (CDL) is needed for towing a trailer over a specific weight limit. For example, in Michigan, drivers need a CDL to operate vehicles with a combined GVWR of 26,001 pounds or more.
Does Towing a Trailer Make It Hard to Drive?
Driving a vehicle towing a trailer is relatively straight forward. The trailer simply follows the path of the vehicle. The only challenges come with backing up or taking turns sharper than 90-degrees. Take your time and pay attention to blind spots.
Conclusion: What Is the Best Travel Trailer?
Choosing the right trailer is almost as difficult as choosing a new home. It is a place in where you are likely going to spend a lot of time. As everyone has their own lifestyle, the trailer that you choose should suit yours.
Think about how you enjoy traveling. If you plan to take your trailer camping, you may not need a full-size travel trailer with all the amenities. Some of the smaller options, such as the Hummingbird, provide the basic features that you need. You get a bed, a small kitchen, and a bathroom.
If you want to avoid staying at hotels, you may want a trailer with all the amenities. The larger floor plans of the Winnebago Micro Minnie may meet your needs.
Besides these options, Airstream has a variety of travel trailers to match any of your requirements. There are small trailers that sleep two and larger options that can sleep up to eight.
Before choosing, look at photos of the trailers to get a better sense of the living space and floor plan. With the right choice, you should feel at home during your next vacation.